High-Quality Zinc Die Casting Alloys
Precise and Durable Zinc Alloy Cast Tooling
At Soldy, we specialize in zinc alloy die casting. This process begins with the appropriate preparation of the zinc alloy itself. The ingots are melted in an electric furnace integrated with a die casting machine. Each purchased raw material has a chemical composition certificate, which allows us to create zinc compound products that are highly precise and durable, perfect for industries such as firearms, electrical housing, lighting, furniture, air products and many others.
At Soldy, we focus on providing high-quality zinc alloy die casting products and services to our customers. We have a team of experienced and skilled professionals who are dedicated to meeting your specific needs. We are equipped with state-of-the-art technology and automated machines that allow us to produce top-notch products in low and high volumes. This allows us to provide our customers with reliable and consistent project outcomes. We offer comprehensive services that include design, prototyping, tooling, production, finishing, and assembly, and we also provide an assortment of value-added services that can be customized to meet varied customer needs.
If you are looking for a metal molding company that can provide you with superior quality products and services, then Soldy is the right choice for you. Our extensive hands-on experience allows us to use the most updated industry techniques and equipment to transform your ideas into reality. And because we work with alloys that have an array of properties, we can find the perfect match for your project. If you need any help, our team of experts is always here for you!
Certified Zinc Die Casting Manufacturing You Can Rely On
Die casting is a process of manufacturing metal products by pouring molten metal into molds. It is used to produce parts with complex shapes and high precision. The die casting process is divided into two types: hot chamber die casting and cold chamber die casting. Zinc compounds are widely used in die casting due to their good castability, dimensional stability, corrosion resistance and mechanical properties. The most common zinc compounds used in die casting are Zamak 3, Zamak 5, Zamak 7 and Zamak 2.
Soldy offers comprehensive zinc die casting services, including product development, tooling design and fabrication, mass production, and surface finishing. We are certified to ISO 9001:2015 and compliant with RoHS Directive 2011/65/EU. As a leading zinc die casting company, we are committed to providing high-quality products and services to our customers.
We understand that the quality of our zinc die casts is paramount to our customers' satisfaction, which is why we place a strong emphasis on quality control throughout the entire process. We utilize state-of-the-art automation and robotics in our facility, but we also recognize the importance of the human element in ensuring that every component meets our customers' exact specifications. Our team closely monitors the process from start to finish, so that any deficiencies can be detected and corrected before the final product leaves our facility. By maintaining such high standards of quality control, we're able to consistently provide our customers with zinc casting alloys that meet their precise requirements. Contact us today to learn more about our zinc fabrication capabilities.
Comprehensive Zinc Casting Services You Can Trust
Soldy is an industry-leading zinc die cast manufacturer that provides high-quality zinc compound die casts for businesses across a range of industries. We have many years of experience in the die casting business, and our team of experts is dedicated to providing the best possible service and products to our customers. When it comes to zinc casting, no one does it better than Soldy.
We use the latest technology and equipment to produce top-quality alloy castings, and we are constantly innovating to ensure that we are always at the forefront of the industry. As a certified and compliant zinc casting company, Soldy offers comprehensive services and support for all your zinc die cast tool needs. We specialize in high-quality zinc cast alloys, and our state-of-the-art facilities are equipped to handle even the most complex projects. Whether you need a single prototype or large production runs, we can help. Our team of experienced engineers will work with you to ensure that your project meets all specifications and requirements. Plus, we offer competitive pricing and quick turnaround times, so you can get your products to market quickly and efficiently. Our extensive experience and knowledge of zinc cast alloys allows us to offer our customers multiple options for their specific needs. We know the importance of quality and on-time delivery, therefore we make sure that our products meet the highest standards.
Efficient Aluminum Die Casting and Zinc Die Casting Services
The aluminum die casting and zinc die casting process is one of the most versatile manufacturing processes available. It offers wide-ranging benefits that make it an attractive option for businesses from across diverse industries. Some of the key benefits of the aluminum die casting and zinc die casting process include:
Ability to produce parts with highly detailed designs
An array of design options
Cost-effective manufacturing process
Quick turnaround times
These benefits have made aluminum and zinc die cast operations one of the most popular manufacturing processes used by businesses today. When it comes to finding a reputable and reliable aluminum and zinc die cast manufacturer, there is no better option than Soldy.
As a licensed aluminum and zinc die cast manufacturer, we are uniquely qualified to support businesses from across diverse industries with all of their steel fabrication needs. We offer a comprehensive range of services that includes design, prototyping, tooling, production, finishing, and assembly. We also put forward multiple zinc casting alloys to choose from, so you can be sure to find the perfect match for your project. Whether you need a few hundred parts or millions of parts, we can help.
As a nationally recognized aluminum and zinc alloy casting company, Soldy takes pride in our quality and customer service. We work with our clients to create the best products possible, and our metal molding capabilities are second to none in the industry. We use the latest technology and equipment to create superior products. Contact us today to learn more about our aluminum and zinc die cast services. Thank you for considering Soldy as your aluminum and zinc fabrication company.
Zinc Alloys
We work with several zinc alloys in our die casting processes. Because these alloys have very different characteristics, this overview will help you determine which die cast zinc alloys are most suitable for your components.
Zamak 3 (Zinc Alloy 3) is the most widely used material for zinc die casting in North America. It has superior castability, long-term dimensional stability, and is easy to plate, paint and chromate treat. In the industry, Zamak 3 is considered the standard.
Zamak 5 (Zinc Alloy 5), which contains 1% copper, produces castings somewhat stronger and harder than Zamak 3. Zamak 5 has excellent castability and is easily plated and finished. In the U.S., it is often used when additional tensile strength is required.
Zamak 7 (Zinc Alloy 7) has less magnesium content than Zamak 3, which increases its fluidity. It is a good choice for thin-wall components, especially when a good surface finish is needed, and also when formability in secondary operations is important. 
Zamak 2  is the hardest and strongest Zamak metal alloy, having a high (3%) copper content.
ZA-8 (Zinc Aluminum Alloy),
which contains about 8.4% aluminum, is similar to Zamak 2 in strength, hardness and creep, and is easy to plate and finish. It is widely used for decorative parts.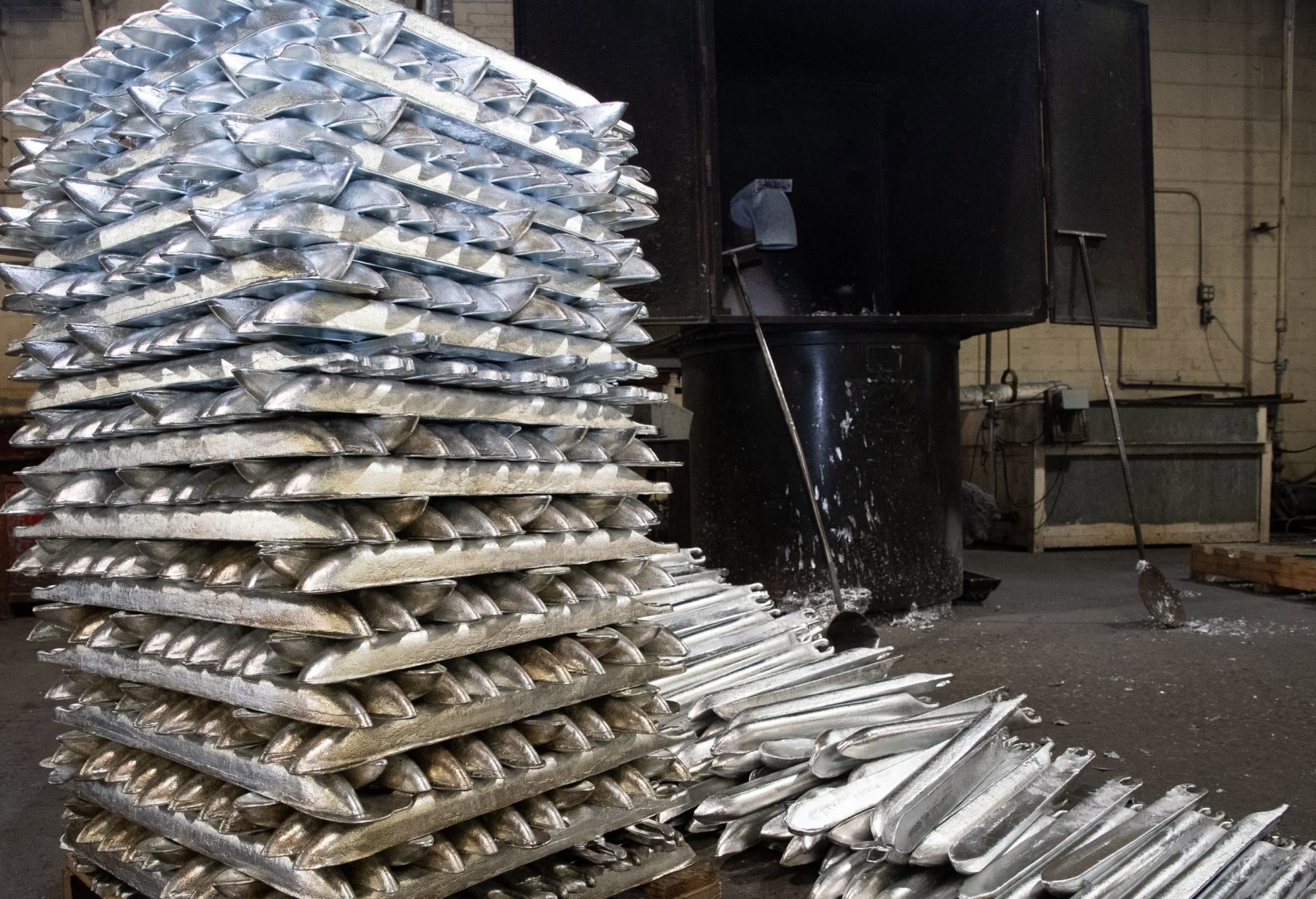 Our Zinc Die Casting Capabilities
Soldy is proficient in manufacturing zinc parts to extremely tight tolerances — up to .0001". We can produce zinc parts ranging from .004 ounces to 11 lbs. Our high-speed Techmire machines enable us to mass-produce parts at very competitive prices without sacrificing quality. We utilize Advanced Product Quality Planning (APQP) to ensure that your product requirements are defined, controlled and repeated throughout the production process.
Zinc Alloy Data
Our engineers are happy to help you get started or answer any Zamak die casting questions you have. To learn more about choosing the right zinc alloy for your application, please click here.