High-Quality Aluminum Die Casting Alloys
Efficient Aluminum Alloy Casting Capabilities
Aluminum alloy casting is a process that involves pouring molten aluminum into a mold to create a desired shape. This operation is often used to create parts for vehicles, aircraft, and other machines. Aluminum casting is a versatile and affordable way to create the parts you need. At Soldy, we have the experience and expertise to produce high-quality aluminum castings for our customers. We use the most advanced aluminum compounds and state-of-the-art equipment to create castings that meet your specific requirements.
We use the most up-to-date resources to ensure that our products meet or exceed industry standards, and we also have a team of experienced tooling experts who understand how to get the best results from every machine. When it comes to aluminum alloy casting, our company produces top-quality aluminum products that are perfect for different applications. From aluminum doors and frames to precise aluminum cast tools, our company has the perfect solution for your needs.
We're committed to quality and innovation, so you can be sure that you're getting the best possible cast aluminum product when you choose us. Our aluminum casting process is second to none, and we are always exploring new ways to improve it. When it comes to standard aluminum compound casting, there is no company more competent and capable than Soldy. We have been in the business for many years and have cast aluminum for some of the biggest names in the industry. Contact us today for more information!
Precision Aluminum Die Casting
Lightweight aluminum casting alloys are perfect for die casting due to their dimensional stability and ability to create complex geometries with thin walls. Aluminum is also corrosion-resistant and has great mechanical and thermal properties, making it an ideal choice for die casting. Soldy is your go-to aluminum die casting manufacturer for precision aluminum parts. Our state-of-the-art facility and knowledgeable staff allow us to handle high volume production with quick turnaround times. Plus, our rigorous testing and quality assurance processes ensure that you're always getting high caliber products at the most cost-effective price point.
At Soldy, we use the latest casting technologies to produce aluminum compound parts that meet the most exacting standards. We're committed to providing our clients with high-quality products and outstanding customer service. Whether you need a single prototype or large production run, we can help.
We offer a wide range of casting capabilities, including:
Low-pressure casting
Gravity casting
Die casting
Vacuum casting
We also serve up an array of finishing options, such as:
Anodizin
Powder coating
Painting
Plating
As a nationally recognized manufacturer known for casting aluminum expertly, Soldy can handle all aspects of aluminum die casting production. We work with our clients to design and test molds, manufacture precision aluminum parts, and then finish and package them according to their specifications. Our customers value our ability to turn complex design specifications into reality. If you're looking for a die casting company that can provide you with the highest quality products and services, look no further than Soldy. Contact us today to learn more about our aluminum casting services.
Custom Aluminum Alloy Molding Solutions
When it comes to creating custom aluminum alloy molding solutions, there's no better name in the business than Soldy. Aluminum alloys are widely used in die casting because they offer a good balance of properties, including high-strength, ductility, and corrosion resistance. Aluminum castings can also be produced with very tight tolerances and smooth surfaces.
At Soldy, casting aluminum compounds is what we know best. We've been in the business for years, and have established ourselves as an industry leader. Our skilled professionals and advanced technology allow us to produce high-quality aluminum compound castings for clients all over the world at the most cost-effective prices. And because we know that timely delivery is important, you can always count on us to get your shipment to you on time.
If you are looking for a way to produce strong, precise aluminum parts, aluminum casting may be the perfect solution for you. Soldy can provide you with the alloy die castings you need to get the job done right. No aluminum casting project is too big or small for Soldy, and we have the perfect solution for your unique metal fabrication needs! We use the most advanced alloys to create aluminum castings that are both strong and lightweight, so whether you need a few aluminum parts or an entire aluminum casting production line, Soldy is your one-stop shop for all your steel molding needs.
Soldy Is the Best at Die Casting Aluminum
The procedure of die casting aluminum compounds is used extensively in the manufacturing industry, as it provides excellent dimensional accuracy and repeatability. Aluminum compound die casting is also very cost-effective, making it an attractive option for many businesses. This highly specialized operation offers many benefits over other aluminum casting processes, especially because the process of die casting aluminum compounds is extremely precise, allowing for tight tolerances and intricate designs. Aluminum compound casts are also very strong, making them ideal for parts that will be subject to high stress or wear. In addition, the process requires less materials than other casting processes.
If you're in the market for an advanced and efficient aluminum compound casting manufacturer that's always ready to service your business, you can't go wrong with Soldy. We have been in the aluminum casting business for many years and our experience allows us to bring your product designs to life with optimal die cast part designs and quality. With our less than 1% return rate, you're guaranteed high-quality economical products at Soldy.
Whatever your needs, we can help! Some of our aluminum casting services include precision aluminum compound casting, aluminum gravity casting, and aluminum machining. We also offer professional aluminum design engineering to help you create the perfect product. Don't hesitate to contact us for your aluminum casting needs.
Your Dependable Aluminum Alloy and Zinc Alloy Die Casting Partner
At Soldy, we specialize in aluminum alloy and zinc alloy die casting. We have a team of experts who can help you choose the right material for your project, and we're always happy to source specific alloys if you have specific requirements. Soldy has been in the business for years, providing quality aluminum and zinc die casting services to customers worldwide. We're experts at what we do, and we're always here to help you with your die casting needs.
Our aluminum compound die castings are some of the strongest and most durable on the market, and our zinc alloy die castings offer superior corrosion resistance. Our products are used in a wide range of industries, from automotive to construction, and we can also custom-design die castings to meet your specific needs. As a leading aluminum alloy and zinc die casting company, we are committed to providing our customers with the best possible products and services. Additionally, we are always innovating and improving our process so that we can better serve our customers.
When it comes to aluminum alloy and zinc alloy die casting, there is no company more reputable or reliable than Soldy. With our state-of-the-art facilities and equipment, we have what it takes to consistently put forward high quality castings that meet the strictest standards. Plus, our prices are unbeatable and our products are backed by a 100% satisfaction guarantee, so you can be sure you're getting the best possible product when you choose Soldy. Contact us today to discuss how we can help you with your aluminum or zinc die casting needs!
Aluminum Alloy Castings
Elements such as Silicon (Si), Copper (Cu), Magnesium (Mg), Manganese (Mn), iron and zinc are combined with aluminum to create alloys with certain characteristics needed for product specifications and performance requirements.
Here are the alloys we offer and their performance characteristics:
Alloy A380 (ANSI/AA A380.0) is the most commonly used aluminum die casting alloy, offering the optimal combination of casting, mechanical and thermal properties as well as ease of production. A380 is specified for a wide range of applications, including electronic and communications equipment, automotive components, engine brackets, transmission and gear cases, appliances, lawn mower housings, furniture components, and hand and power tools.
Alloy 383 (ANSI/AA 383.0) is used as an alternative to A380 for intricate components requiring improved die filling characteristics. Alloy 383 offers improved resistance to hot cracking (strength at elevated temperatures), better corrosion resistance, dimensional stability and good mechanical properties.
Alloy A413 (ANSI/AA A413.0)  This alloy also has excellent fluidity and resists hot cracking. Its casting characteristics make it useful for a variety of products, especially intricate components.
Alloy B390 (ANSI/AA B390.0) contains a relatively high amount of silicon for greater casting fluidity, improved strength and lower melting temperature. Copper is also added for extra strength. Alloy B390 was developed for use in automotive engine blocks. It offers high hardness and excellent resistance to wear; its ductility is low. It is commonly used for die cast valve bodies and compressor housings in pistons.
Zinc Alloy ZA-27 is a zinc-aluminum alloy that is one-and-a-half to three times stronger than cast aluminum. Its tensile strength is comparable to that of gray or malleable cast iron. ZA-27 offers very good machinability and has excellent bearing properties. Among the ZA alloys, ZA-27 has the highest aluminum content (27%), the highest melting point, the highest strength and the lowest density.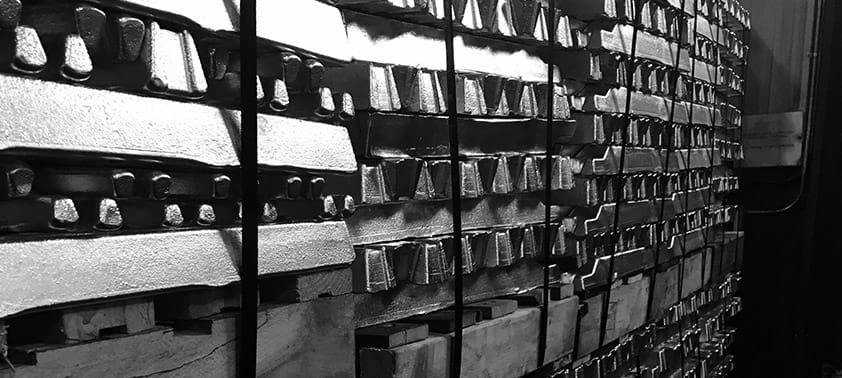 Our Alloy Capabilities
Soldy Manufacturing can die cast parts up to 20 pounds. Our aluminum machines range from  500 tons to 1,000 tons. With standalone furnaces at each die casting machine, Soldy has the flexibility to cast a wide range of products simultaneously, which reduces setup costs and improves lead times for our customers.
Aluminum Alloy Data
Our engineers are happy to help you get started or answer any questions you have. To learn more about choosing the right alloy for your application, please click here.