Aluminum Alloy Castings
Elements such as Silicon (Si), Copper (Cu), Magnesium (Mg), Manganese (Mn), iron and zinc are combined with aluminum to create alloys with certain characteristics needed for product specifications and performance requirements.
Here are the cast al alloys we offer and their performance characteristics:
Alloy A380 (ANSI/AA A380.0) is the most commonly used aluminum casting material, offering the optimal combination of casting, mechanical and thermal properties as well as ease of production. A380 is specified for a wide range of applications, including electronic and communications equipment, automotive components, engine brackets, transmission and gear cases, appliances, lawn mower housings, furniture components, and hand and power tools.
Alloy 383 (ANSI/AA 383.0) is used as an alternative aluminum alloy material to A380 for intricate components requiring improved die filling characteristics. Alloy 383 offers improved resistance to hot cracking (strength at elevated temperatures), better corrosion resistance, dimensional stability and good mechanical properties.
Alloy A413 (ANSI/AA A413.0)  This alloy also has excellent fluidity and resists hot cracking. Its casting characteristics make it useful for a variety of products, especially intricate components.
Alloy B390 (ANSI/AA B390.0) contains a relatively high amount of silicon for greater casting fluidity, improved strength and lower melting temperature. Copper is also added for extra strength. Alloy B390 was developed for use in automotive engine blocks. It offers high hardness and excellent resistance to wear; its ductility is low. It is commonly used for die cast valve bodies and compressor housings in pistons.
Zinc Alloy ZA-27 is a zinc-aluminum alloy that is one-and-a-half to three times stronger than cast aluminum. Its tensile strength is comparable to that of gray or malleable cast iron. ZA-27 offers very good machinability and has excellent bearing properties. Among the ZA alloys, ZA-27 has the highest aluminum content (27%), the highest melting point, the highest strength and the lowest density.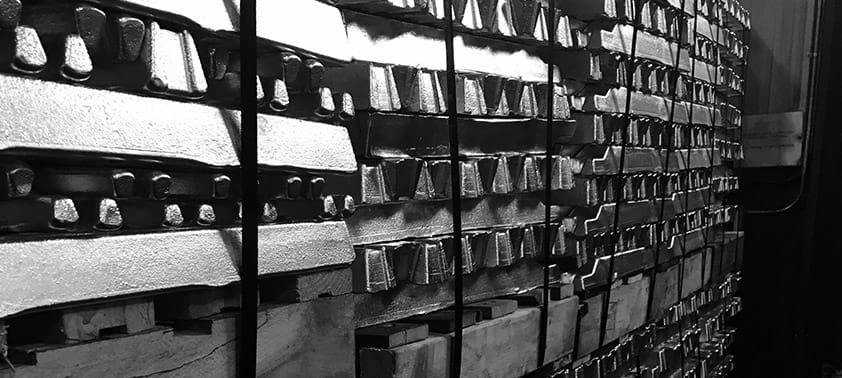 Our Alloy Capabilities
Soldy Manufacturing can die cast parts up to 20 pounds. Our aluminum machines range from  500 tons to 1,000 tons. With standalone furnaces at each aluminum alloy die casting machine, Soldy has the flexibility to cast a wide range of products simultaneously, which reduces setup costs and improves lead times for our customers.
Aluminum Alloy Data
Our engineers are happy to help you get started or answer any questions you have about our die cast aluminum alloys. To learn more about choosing the right alloy for your application, please click here.